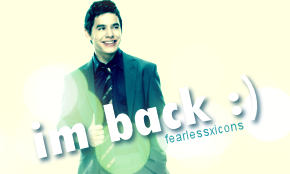 okay, i know its been FOREVER since i last posted. There was a reason for that...
My computer with my graphics program on it, TOTALLY crashed. It got a major virus so i had to get it fixed. I ended up just getting someone to clear the computer completely out. I was soo bummed because I had just started this community and i was so excited about making new graphics. I'm back with my *basically* new computer and a brand new updated photoshop program! I am ready to work! haha.
I know i probably lost a lot of members. =\ Im super sorry. If anyone is still here THANK YOU! Help me spread the word that im back up and running? Maybe get some more members? :)
If anyone has any suggestions or requests, please comment! I'd love to hear your input!
im already starting on my next batch of icons/banner!
xoxo - a
Current Mood:
cheerful
Current Music: let me go - david archuleta